Introduction 
In the latest instalment of our Setanta Student Story Series, we chat with Diploma in Personal Training and S&C graduate and current MSc in Performance Coaching student, Joanne Doonan. Joanne is a current AFLW player for Essendon FC having previously represented Fermanagh in Ladies Football.  
From her initial background in Ireland, to the transition from amateur to professional athlete, and her decision to pursue a career in coaching, Joanne shares her experiences, challenges and aspirations for the future.  
Sporting Background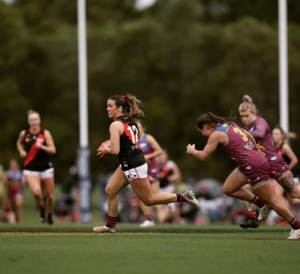 Starting out at Gaelic Football training with Kinawley GFC u8s and u10s in Fermanagh, sport has been a central part of Joanne's life since an early age. As time goes on, she has reflected on how this has produced benefits that have transcended the playing field into other areas of her life.  
"Only as I get older do I realise how many skills that sport has taught me that are transferable in my career; from leadership, communication and teamwork to determination, resilience and attitude." 
The Journey to the AFLW 
Until 2019, Gaelic Football was the only sport that Joanne had played competitively. A cross coder camp held that year provided an opportunity to try her hand at AFL.  
"I went with very little expectation, so much so that I wasn't even going to bother going – but I'm certainly glad I did!" 
Things progressed quickly from here with all fitness test data and video footage sent to teams in Australia. By the following weekend, a telephone interview with Carlton was organised.  
"I was just focusing on county football for Fermanagh and I had not heard much since the camp. Then at the last minute, the week before the All Ireland semi, I flew to Australia for a weekend to meet with Carlton, train with the VFLW team and basically from there I got signed to them for the 2019/2020 season."  
Having played the first two games with Carlton, Joanne ended up returning home after the season had been cut short due to COVID. Four weeks before signing the contract, she was delisted from the roster.  
"It was gutting after doing the whole pre-season and being told I was going back, but that's just professional sport. In hindsight I feel I definitely wasn't in the mental space as I was doubting every move I made but I knew I'd more to give. I worked hard through the county and club at home with the hope of getting back into AFLW. I then flew to Australia in February of 2022 to play VFLW with Essendon and just really worked on enjoying the challenges, both mental & physical. From there I was one of the first picked for the inaugural Essendon AFLW team for 2022. Now I'm coming into my second season with the club and loving it." 
As for the differences between Gaelic Football and Australian Rules? 
"The shape of the ball makes a big difference but having spent more time here, learning how to kick it certain ways can be really advantageous. Obviously the physical aspect too, although I feel the Irish athletes are conditioned well for the fitness and even the tackling side of the game. For me coming from a small county, the main difference is the professional environment and resources. Having several S&C coaches, physios, coaches, etc is just amazing and has made a massive difference to my own development." 
From Engineering to Coaching 
This exposure to a more professional environment and progression in sport led to Joanne becoming more focused on finding ways to improve her own performance, including a new found passion for strength and conditioning. With the help of career guidance support from the GPA, this has led to a change of career direction from Mechanical Engineering to coaching.  
"I completed a personality test and the counsellor highlighted that I would make a really good coach. Being honest though, it wasn't something that was on my radar as a career prospect. Having completed an online PT course, I started working in a gym post-COVID. I began Personal Training and online coaching which made me realise how much I loved seeing people progress and push themselves. It never felt like work to me, so I knew from there that I wanted to keep developing so I looked into courses at Setanta and it went from there." 
Studying with Setanta
With Setanta, Joanne first completed the Diploma in Personal Training and S&C, before continuing on to enrol on the MSc in Performance Coaching.  
"The partnership with the GPA helped as I knew they understood the demands of playing intercounty football. The education pathways through Setanta made it easy for me to further develop my education which also was a major factor going here." 
"I have to say the knowledge I gained through the practical days during the Diploma was invaluable. Even small tips from the excellent lecturers and/or guest speakers and the connection with other coaches. It can be small coaching pointers that just make something so easy to remember. Also, I've gained so much knowledge for my own training through the Athlete Monitoring and Coaching Technology module, leaving it so much easier for me to recognise areas for improvement, which in turn helps me in my coaching."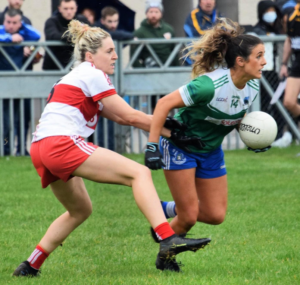 Evolution of Coaching Style 
Leaning on her playing experience has helped Joanne develop her coaching style, along with access to elite facilities and technologies with Essendon.  
"I've learned to use the experience of playing to my advantage to be a better coach. I usually go with the concept if I haven't done it before or know the movement pattern, then I can't coach it to its full potential. This way I've a better understanding of the struggles, movements and areas to focus on.  
I definitely have the benefit of trialling my learnings through my own performances before implementing them as a coach. I've gained a better understanding of the athletes' struggles, what to expect in a professional environment and how to get the best out of team mates which helps me massively understand my clients needs as a coach." 
Balancing Playing, Coaching and Studying
Balancing studies, playing and coaching can become a challenge, especially during busy times of the season. Having systems in place helps alleviate this pressure though.  
"It really comes down to time management, chipping away at the work all year instead of at the time of the assignment. Routine is really important to me, so setting aside time each week to focus on getting some work done instead of just doing the work as it comes, that way it's just weekly habits to dedicate that time to study so I can relax in whatever else I'm doing knowing I have that time set aside." 
Looking to the future, the aim is to continue growing her coaching practice and help athletes continue to excel.  
"I would love to continue to grow online communities to help athletes thrive in their sport. I'm unsure where I want to take the MSc in Performance coaching but I'm excited to see what avenues it opens for me in the future." 
To learn more about the courses available at Setanta College, visit www.setantacollege.com/all-courses