Welcome to Setanta College, an internationally renowned centre of excellence in all aspects of strength & conditioning and athletic development.
Founded in 2006, our passion is to help people realise their full potential through bespoke courses in which we deliver both the technical and interpersonal skills that enable our people to shine in their careers.
Come join us – and see what we can achieve together.
S&C Courses Developed & Delivered By Experts
Undergraduate Strength & Conditioning Courses
Starting September 2022
Gain a 9-month Certificate up to Degree level qualification in S&C. Setanta College graduates work throughout the world with top professional teams and athletes. Others support their local schools, clubs, special populations and local community by applying their knowledge to help improve coaching practice and general health and wellbeing.
Dual Qualification in S&C and Personal Training
Diploma in Personal Training and S&C
Starting September 2022
Our Diploma in Personal Training also comes with a Certificate in Strength & Conditioning which will set you apart in the industry.
Along with REPS Ireland approved lectures on Personal Training you will cover three S&C specific modules covering a wide range of subjects which will result in a vastly superior skill set of how to screen and train individuals and teams.
Master of Science in Performance Coaching
Now Enrolling for September 2022
Those with a primary degree in S&C, Sports Science, Sports Physiotherapy, Athletic Training or a similar field of study can now enrol onto our groundbreaking Masters. This programme will produce graduates capable of coaching, planning, managing and implementing the latest sports technology and methodologies in the upper echelons of sport.
Master of Science in Applied Sport & Exercise Psychology
Now Enrolling for September 2022
This is a unique programme that has been designed in association with a panel of leading experts from the sport, health & fitness industries. With an industry focus, this programme is highly practical and applied, teaching many skills and tools for success in addition to covering the key theoretical components. This programme is designed for practitioners first and foremost, with routes to progress in academia facilitated also.
Master of Science in Sports Rehabilitation & Performance
Now Enrolling for September 2022
The Master of Science in Sports Rehabilitation & Performance is designed to address the needs of practitioners working with athletes at different aspects of the rehab to performance pathway.  Designed and delivered by industry experts, it uses an interdisciplinary approach to consider the needs of athletes and practitioners at different points of this continuum along with how best to address these needs.
Frequently Asked Questions
Technology Requirements as a Student
shogan
2020-06-19T17:41:02+01:00
Online/Blended Education understands that students will have varying degrees of technical experience and ability when they begin their studies. However, due to the key role technology plays in Online/Blended Education students' studies all students must be able to engage with relevant technologies to a minimum level. It is expected that students will have a computer competency level equivalent to the International Computer Driving Licence (IDCL) (https://icdl.org/). That is, students should be familiar with using email, browsing the Internet, and using the word processing package Microsoft Word.
In addition, students must have regular access to a good quality Computer (loaded with Microsoft Office) and a broadband Internet connection. The web browser a student uses must be able to play Macromedia Flash, Shockwave, Java and the Adobe Acrobat PDF file reader. (These internet browser plug-ins are freely available.)
The reason that students must have a regular access to a computer with broadband is that substantial use is made of online support via the virtual learning environment Moodle, with some learning resources only being available from that source. Students are required to access the online journal databases available through the Setanta College online library. Students should also be able to attend 'live' virtual classrooms. In order to facilitate online communication in 'live' virtual classrooms students should have a high quality headset/microphone (built in microphones and speakers in laptops or desktops cannot be used as they give rise to sound problems) and a webcam is also desirable.
For students, the following system configuration and software are recommended for optimal performance: • Platforms: Mac OS X 10.6 or higher or Windows 7 or higher or Linux- Chrome OS • Hardware: 1 GB of RAM with 2 GHz processor, CD-ROM, and 50 Gb free disk space • Productivity Software: Microsoft Word, PowerPoint, and Excel 2007 or higher; Adobe Reader 10.0 or higher • Web Browser: Firefox 3.0 or higher, Internet Explorer 8.0 or higher, Safari 4.0 or higher, or Chrome • Email: Outlook, Outlook Express, Mac Mail, Eudora, Entourage, or Yahoo/Hotmail/Gmail • Internet Speed: 512 kbps, for optimal performance 1 Mbps • Web Camera and microphone.
What are the career opportunities after completing the degree?
webmaster
2017-09-20T11:29:18+01:00
In terms of career development, the majority of our graduates are working in the Health & Fitness industry, Sport industry, or pursuing postgraduate study. Students will be prepared to work with sport and recreational participants across a wide range of levels from beginners through to elite athletes. Additionally, students will be provided with the skills to perform effectively in a wide range of fitness related industries, such as rehabilitation, personal training, gym instructing, health and wellness, community activity, tutoring etc. We also have a number of graduates who have moved to PE teaching and physiotherapy.
Elite sportspeople put their trust in Setanta College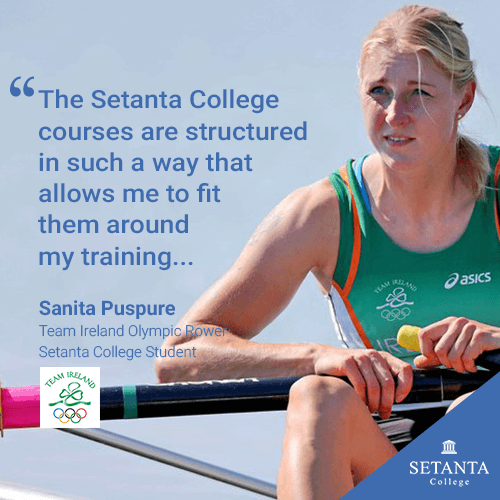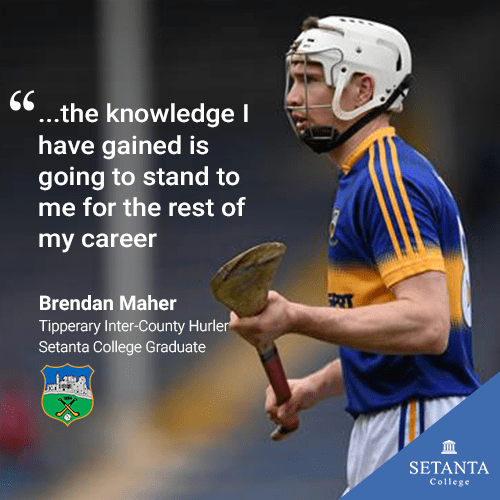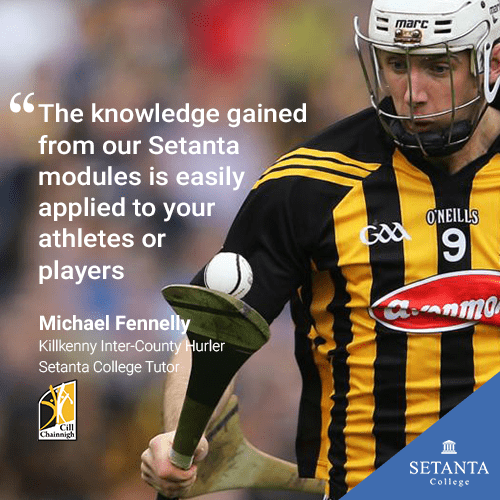 Have a question? Send us a message:
Office contact details:
Setanta College
Thurles Chamber Enterprise Centre
Nenagh Rd
Thurles
Co. Tipperary
Ireland
Tel: +353 (0)504 26723
Email: info@setantacollege.com
Choose a course that's right for you