Turnaround
Most observers viewing the Wales v England Rugby match during the current 6-Nations tournament would agree with England Captain Dylan Hartley, when he noted post-match that it was ' a hell of a test match'. Commentator have said this was a top class performance by Wales against a strong and winning England team. While Wales were playing at home, and this is always an assist and even an advantage, England had the benefit of a 7 day turnaround compared to 6 day turnaround that Wales were limited to. Many commentators suggest that a shorter turnaround especially when playing at the highest level, is a disadvantage.
How to get the edge on recovery
We have in previous blogs noted how if a team gains more sleep in the week before an intensive game that recovery in the days following match-play will literally speed up. Yes, if extra sleep can help in this then make sure that is planned into the pre-match week and also during the post-match period as well. But what else has been shown to speed recovery?
Irish Rugby and indeed teams from Wales and England and around the world have used whole body cryotherapy to eek out better recovery following both intense training and following intense match-play. Wales in fact have a training base whole body cryotherapy facility at their training HQ in the Vale of Glamorgan. Last week after their Sunday game against Italy, Wales flew home Sunday night and immediately went to their training base at the Vale of Glamorgan. Here they completed a late night exposure to whole body cryotherapy. Their intention was to do all they could to recover from the flight and 6 day turn around so that they could be ready to take on the might of a winning England team.
Whole Body Cryotherapy – what is it?
Whole body cryotherapy is where the body is completely exposed to extreme cold for a short duration. Temperatures of between -110 to -180 degrees Celsius (C) are used in an attempt to repair, recuperate and stimulate or reinvigorate the systems of the body that have been stressed. An exposure period typically can vary from 1 to 3 minutes. Each exposure occurs in a chamber or sauna type compartment called a 'cryosauna' or a 'cryochamber'.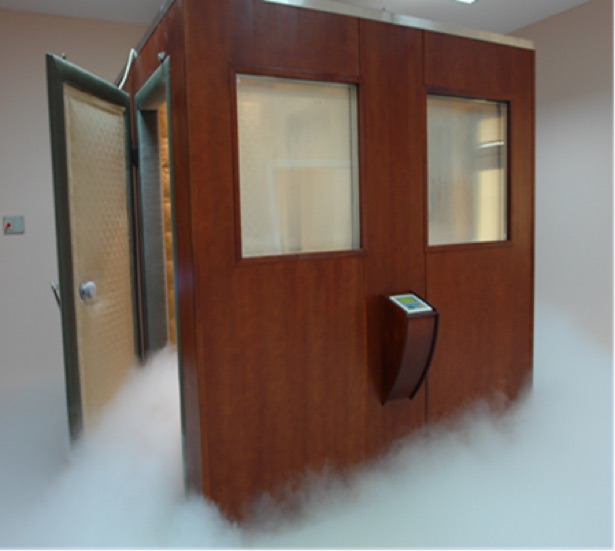 Figure 1. Whole body cryotherapy chamber cooled to approx. -135 degrees Celcius using Liquid Nitrogen.
Recent evidence tells us that yes indeed taking such an exposure to extreme cold will indeed not only speed recovery but will also assist in gaining guess what….more and better quality sleep.
Other Sports and Reality
Many premiership soccer teams now use this novel form of recovery to aid in returning to baseline following intense playing and training periods. Also, notable athletes such as Mo Farah also place great faith in using such a system in his training routine. Wales will also continue to use whole body cryotherapy as a recovery method during the 6-Nations period. However, as sport continually reminds us, even if the team does everything to better prepare, that does not guarantee victory – but it certainly puts the team in a better position to perform.