Ahead of what is set to be a titanic battle this weekend we sat down with former All Ireland winning Tipperary Captain, and Setanta tutor, Tommy Dunne.
In our chat Tommy reflects on iconic matches gone by, the current state of S&C in intercounty hurling and weighs in on who he thinks will emerge as new All Ireland Champions this Sunday as Galway take on Waterford for the first time ever in a final.
It's 16 years since you played Galway in the All Ireland final. From your experience as an inter-county player, and now S&C coach, what do you think the differences are in the set-up of county teams? Is skill still the most important factor or has the influence of Strength and Conditioning changed the game?
I  think that varies from player to player. It depends on what you are good at in the first place and what your strong points are. For some players skill is the thing they have to work at, other people it will be strength and for some it will be speed or endurance. All these things are in the mix and it's hard to equate where one ranks in terms of the other. Without one of those key elements the other maybe isn't all that much effective, it varies from player to player. Personally, I had to work very hard at strength and endurance, they were the most difficult aspects for me. For other players it will be different.
If you were to ask me what is the big difference now in terms of preparation I would think it's the expertise that's available to the likes of Galway, Waterford, Dublin and Mayo. Because of this players can get into the best possible shape. Really we only trained Tuesday, Thursday and Sunday and were given a programme but there was no supervision or monitoring. Rehabilitation was hit and miss, prehab was non existing – all those things are now cornerstones of players preparation.
Tommy, to take you back to the 2001 match against Galway, from your time involved, what is your abiding memory of that match?
Firstly, on a personal level it was the whole relief that we were able to get the job done, that was a big thing for me. Also, to see the joy in the faces of all your family and friends immediately afterwards, because it's such a big occasion.
I remember loads about the match, getting a good point early on and playing against a pretty stiff breeze in the second half. I still remember some of the turning points in the game – Mark O'Leary's great goal in the first half and Brendan Cummins making his important run mid-way through the second half. But when all is said and done, I recall just trying to treat it like any other game, we worked very hard and I worked very hard on just really keeping your preparation, your focus and your thoughts around executing the basics as well as you could. Of course, trying to get a good start in the game too, I think we got a good start in the All Ireland final against Galway that year and it relaxed us, helped us play and get into a rhythm. It set us up to play fairly confidently then throughout the game.
You've had plenty of experience at this level of hurling, tell us what should you do in the last two weeks before a final?
In terms of the actual physical workload between semi-final and final it would be quite light and obviously the week coming up to the game would be even lighter. Talking through tactical techniques is important along with some brief sessions with very short bouts of high intensity work. To be honest you'd be looking to keep your physical and mental edge without ever going anywhere close to your limits.
Dr. Liam Hennessy talks a lot about load, he recently commented on how Mayo's long season may well be of benefit when they take on Dublin for example. Do you think such intensity works to the advantage of players and teams?
Here is where we really see the benefits of pre-season and prehabilitation, they are incredibly important in the cycle of an inter-county player. It's a game of high demands, both physical and mental demands.
Also, it comes down to the functional work and S&C programme in general, that's why all those things are in situ for intercounty players, if you're getting to All Ireland finals and semi finals, you need the benefit of all those aspects. Quite often a player won't be able to do a huge amount of workload during the season. The only window they might get is between the Munster Final and the All Ireland Semi Final; if there is a window of 5 or 6 weeks and even at that stage there might be some club games. The workload might generally be quite light outside of the game.
In your article with the 42.ie you commented that there's a big contrast in styles of play between Galway and Waterford, but both teams have some very talented players on board. Who are the ones we should be looking out for?
These two teams haven't won it for such a long time, they'll be great fire on the pitch. Galway have a great back line, probably the best in the country and Waterford will really struggle with them. If Waterford wants to make any gains they'll be looking towards the likes of Austin Gleeson, Jamie Barron, 'Brick' Walsh, Kevin Moran, amongst others.
On the other hand they'll need great play from Noel Connors, Shane Fives, Kieran Bennett and Philip Mahony if they want to close down Galway's Conor Whelan, Cathal Mannion and the Cooneys, Conor and Joseph.
Players will look to make their mark early on in the game and I think there will be some great one on one battles. It's worth noting too that Waterford will be playing the sweeper system so this means Galway will essentially have a spare man on the pitch, where they place him will be very interesting.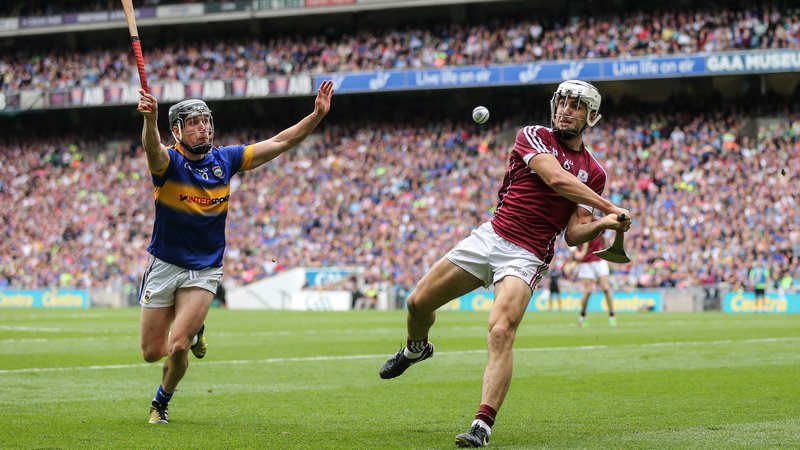 Lastly Tommy, both teams have been waiting a long time to bring home the Liam McCarthy Cup, but who do you think will win this Sunday?
I think we'll see Galway's name on the cup purely because Waterford will not have met a team like Galway, and they'll find Galway's strong defence as challenge.
Also, Waterford will be lost without one of their big players, Conor Gleeson. They'll really feel his absence as he's a great marker, he'd pick out players doing damage. He easily could have picked up Joe Canning, it's unfortunate he's suspended.
The other reason why I fancy Galway is their brilliant consistency so far. They tore Tipp apart in the League final and when it really mattered, in the All Ireland semi-final, they put them away. Galway have serious confidence this time around have matured nicely since 2015.
Honestly, I think Waterford will struggle if they don't get an early lead in the game and I can't see that happening against this particular Galway team. They've had too many near misses to not set themselves up for a win, it has all the makings for a great match and I predict the scoreboard will be tight enough.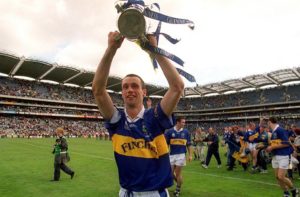 Tommy Dunne is a  former Tipp hurler who collected one All Ireland title as captain, two Munster titles, three National Hurling League titles and three All-Star awards. 
If you are interested in more of what Tommy has to say, his opinion and analysis leading up to the All-Ireland you can read his article with the 42.ie here: http://www.the42.ie/tommy-dunne-galway-waterford-all-ireland-final-preview-3573207-Aug2017