Last month, World Rugby unveiled its revamped Tackle Ready programme. As a member of the working group responsible for creating the contact confident section, Setanta College's Director of Coaching and Athletic Development, Des Ryan, provides us with an overview of the programme. With a focus on player welfare and safety, this resource aims to equip rugby players and coaches with the necessary skills and knowledge to tackle confidently and responsibly.
Practical Focus
Setanta College and World Rugby have an already established partnership, offering a comprehensive range of online and in-person courses focused on Strength and Conditioning. These courses cater to individuals across different levels, including child, youth, and adult categories, spanning from level 1 to level 2. The online modules within this program serve as a valuable resource for both novice and experienced coaches, equipping them with the knowledge and skills to provide appropriate conditioning coaching based on the age and stage of their players. Prior completion of the relevant online modules is mandatory to participate in face-to-face courses. Furthermore, coaches have the opportunity to further their education with Setanta College, extending their expertise in the field.
World Rugby Passport – Conditioning for Rugby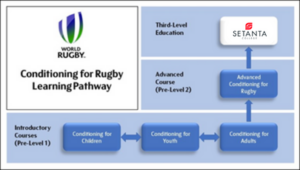 This existing relationship led to the invitation to be a member of the working group, consisting of the below contributors:
Richie Gray – (GSI Performance) Contact and collision specialist Toulon.

Katrina McDonald – (Senior Lecturer Anglia Ruskin University) Judo Coach.

Dr. Anna Stodter – (Associate Professor Leeds Beckett University) Rugby Coach.

Dr. Danielle Salmon – (World Rugby) Concussion Research Co-ordinator.

Des Ryan – (Setanta College) Director of Coaching and Athletic Development. 
It was a great privilege to be part of such an experienced group, with the shared aim of developing something that was practical and beneficial to the rugby community.
Building Confidence and Competence
The outcome of this collaboration is the "Contact Confident" section within the Tackle Ready resource. This section focuses on developing evidence-informed coaching activities that promote confidence, physical competence, and safety in the contact area. To make it user-friendly, the activities are categorized into four key areas:
Mobility, rolling, falling and landing

Deep neck stabilization

Neck strengthening

Head reaction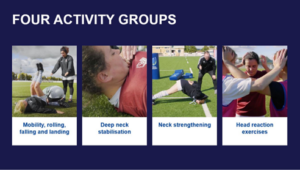 Coaches and players can easily select one or two activities from each group and seamlessly integrate them into their training sessions. This could be completed at home, when you arrive at training, part of the warm up or part of the session. 
Targeting Injury Mitigation
These activities have been identified as crucial in mitigating injuries, particularly in the women's game, where concussion mechanisms differ from those in the men's game. The rates of concussion in women's rugby are higher, with more head-to-ground and uncontrolled whiplash impacts. Notably, studies indicate that female rugby players have, on average, 47% lower neck strength than males. [Ref. NZR CMP Community Concussion Rates and Williams et al (2021)] However, the use of appropriate evidence-informed coaching activities can help reduce the impact of this difference and enhance confidence, physical competence, and safety.
Expertly Curated Activities
The activities included in the Tackle Ready programme have been carefully developed by experts specialising in concussion mitigation, strength and conditioning, combat sports, falling/landing techniques, and rugby coaching. They are designed to be both fun and progressive, with a focus on rugby-related skills suitable for individuals of all ages and genders. Many of these activities can be incorporated into game-like scenarios, enhancing engagement and enjoyment. Each activity also features Key Performance Indicators (KPIs) that provide clear objectives for both players and coaches.
The activities should also be used in conjunction with Activate (World Rugby's Injury Prevention Exercise Programme) World Rugby Passport – Activate Injury Prevention Exercise Programme as well as age and stage appropriate Conditioning Programmes.
https://passport.world.rugby/conditioning-for-rugby/.
Coaches should incorporate one or two activities from each group into their sessions in a progressive manner, as part of the warm-up or as preparation for contact skills during the main body of the session.
An example of one of the exercises is Bear Crawl Head to Head Battle in the below video.
World Rugby Passport – Level 1 activities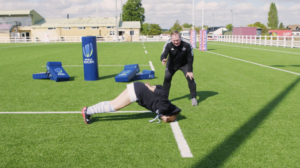 Conclusion
I really feel this resource will be very beneficial to players and coaches. I would encourage all rugby players and coaches to familiarise themselves with the programme. Then slowly integrate it into your rugby programme. The online resource explains clearly how it can be gradually integrated.
Rugby is a fantastic game with huge benefits for people who play our sport at whatever level.
World Rugby and its unions continue to work together to make rugby the most progressive sport in the world on player welfare. World Rugby is investing in research, as part of its commitment to player welfare. That commitment is showing results – The Tackle Ready Programme is a practical and effective outcome from World Rugby's research.
Q&A
What are Breakdown Ready and Tackle Ready?
They are free online training modules available for anybody to use at www.passport.world.rugby which teach players, old and new, and at all levels, to tackle and contest the breakdown in a fair and safe way.
Who should be using Breakdown and Tackle Ready?
Breakdown and Tackle Ready are for everyone, new players through to experienced coaches.  They are available online, for free, at www.passport.world.rugby .
How are the courses put together?
The courses have been written by some of the best in the game, including coaches like Richie Gray, who has taught many of the world's top elite players, to leading academics like Anna Stodter and Danielle Salmon, who have proven that better neck strength and falling techniques lead to a safer, more enjoyable game.