In our latest Setanta Student Story, Nic Ferreira provides an insight into the role sport has played in his life from being a young athlete to becoming a coach. Nic is a current student on the MSc in Performance Coaching and is SAS Rugby 7s Assistant Coach as well as Paul Roos U16A Attack Coach.
Journey in Sport
Nic's sporting journey began at a young age when he explored a multitude of sports, ranging from rugby and cricket to athletics and golf. In those early years, he excelled in rugby and athletics, before eventually focusing on the latter. 
"In my final years of High School, I focused on rugby and athletics. Although my sporting love and passion was for rugby, I was better at athletics where I ran 400m and did Triple Jump. I stopped Athletics after school but continued playing university and club rugby until the end of 2019, after I got a knee injury and felt it was time to fully focus on coaching." 
It was during high school that Nic first began to seriously contemplate coaching as a profession. 
"In terms of coaching as a profession – this first crossed my mind at 17 years old. In High School, we were required to do 10 days of job shadowing over the holidays. At that stage, I had no idea what I wanted to study or do after school. A family friend said he personally knew John Mitchell, who was head coach of the Golden Lions at that stage, and that I could perhaps shadow the team during their Super Rugby campaign."  
This opportunity proved pivotal, as Nic spent two weeks with the team and gained a firsthand look into the world of professional rugby and coaching. 
Joining SAS Rugby 
In 2020, Nic's coaching journey took a significant step forward when he joined SAS Rugby Institute as a skills and kicking coach.
"I had completed my honours degree in Financial Analysis at Stellenbosch University in 2018, whilst playing for and coaching a university residence team. During this time I was put in contact with Jacques Hanekom, Head of Rugby at SAS. I flew up to meet with him and then came back again to shadow at SAS. Later that year I got a call from Corné Uys, then Head Coach, asking if I would be interested in joining SAS Rugby. I knew this was a step in the right direction. So I joined in November 2019 as an intern and in February the following year the role of skills and kicking coach opened up which I moved into."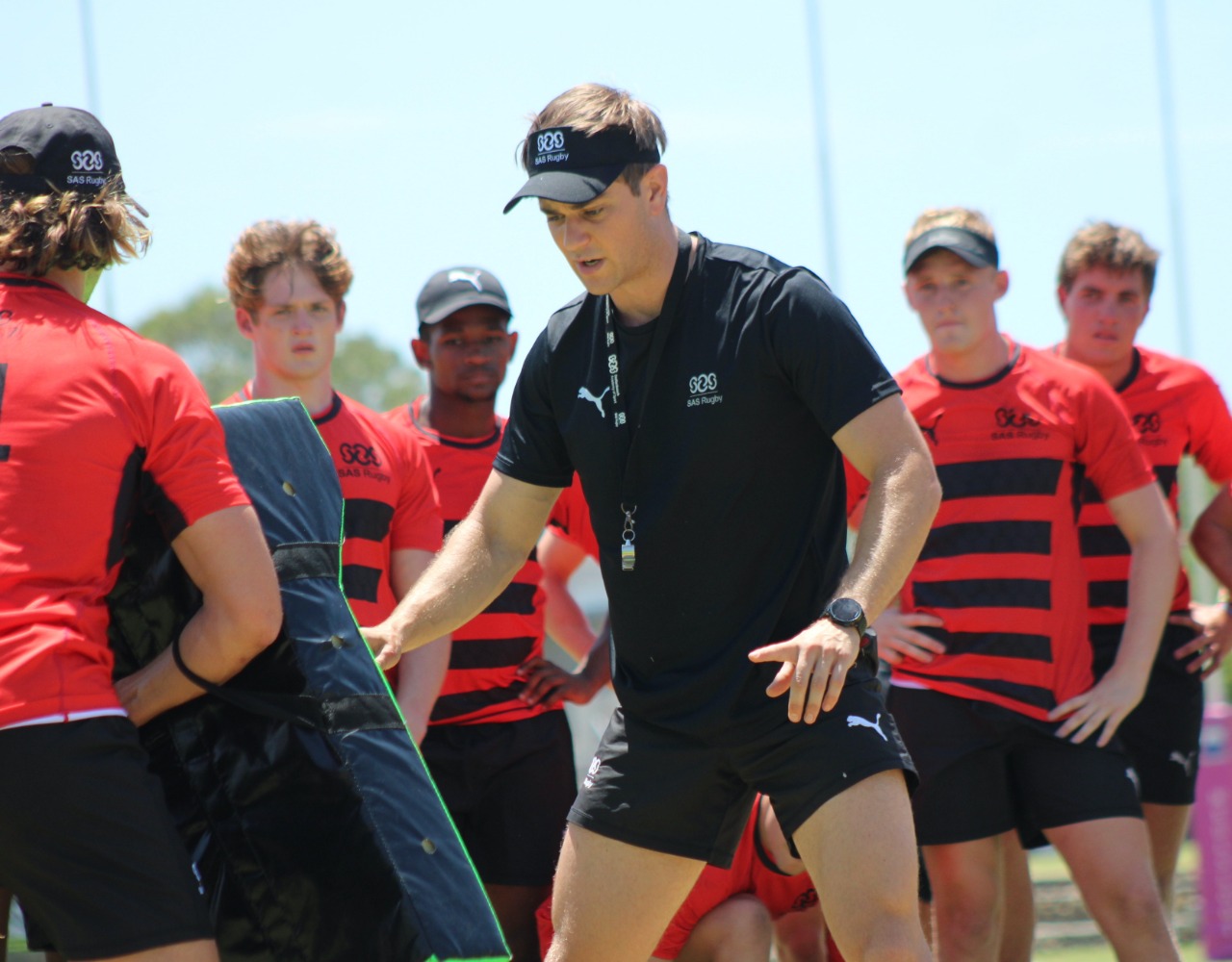 Progression at SAS Rugby
In 2022, he moved from SASRII (15s rugby) to SAS 7s as Assistant Coach. 
"I've thoroughly enjoyed working in the shorter format of the game and we are closely aligned with the Springbok 7s system. I do most of our programming, which means working closely with the Conditioning Coach and Physiotherapist. In terms of coaching roles, I'd say I spend more time with the defence and skills." 
Beyond his role at SAS, Nic also serves as the Assistant Coach of the Paul Roos Gymnasium U16A team, where he leads the attack and backline play.  
"The detail and level of competition in South African schoolboy rugby (especially the top rugby schools) is far beyond what most people would expect. It is a real privilege and I've learned a great deal from coaching at Paul Roos, both about myself and about the game. I enjoy coaching in two different environments with unique pressures and challenges." 
Pursuing Further Education with Setanta 
Nic recognized the need to expand his knowledge in sports science, and decided to pursue an MSc in Performance Coaching with Setanta. He feels this has helped to support his practice as a skills coach. 
"I liked the flexibility and practical aspects of the masters. The course content in this degree will stand me in good stead as a coach and programme director in the future. Although I'm still in the early phase of the masters, I have found the course incredibly interesting and have already been incorporating my learnings into my coaching. I suppose I have a bit of a different view – where most students are probably conditioning coaches or sport scientists, I am looking at how I can use the knowledge as a rugby coach. I will also add that the manner in which the course is presented, with extensive use of videos and journal articles, is excellent." 
From his experience, he outlines how collaboration between the coaching staff are essential for success. 
"It's vital to remember that performing on the rugby field is and remains the main thing. Therefore, the S&C must be aligned and on the same page as the head coach. Although not every gym or conditioning session should be completely rugby specific, it's important that what the S&C is doing ties in with what the head coach wants to achieve." 
Future Endeavors
"At the moment I am fully committed and focused to my roles with SAS 7s and Paul Roos Gymnasium. But in the short term, I'm eager to spend time coaching abroad, working in different environments and picking up new ideas. I'm interested in being part of a senior professional team as one can learn so much from the coaches and players in such a setup. Further ahead, I'd like to be in a head coach position when the time allows for it. I'd love to embrace the added responsibilities this position demands." 
For further information on our MSc in Performance Coaching programme please click here.