Introduction
In our latest Setanta Student Story, our student Karl Hein provides an insight into his journey as a professional footballer, an increasing passion for strength and conditioning and his experience studying with Setanta. 
Karl is a goalkeeper with Arsenal FC and with Estonia at international level, currently studying our Certificate in Strength & Conditioning. At 21 years of age, he has been in England for the last five years. "I moved to England at 16 years old after finishing my primary school back home. I played academy football at U18 level for 1 year and at U23 level for 3 years before moving up to the first team", he recalls. Having been capped at under-17, under-19 and under-21, Karl went on to make his senior international debut with Estonia at international level. 
Developing Interest in S&C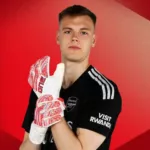 The post-COVID era marked a turning point in Hein's career, sparking his interest in body mechanics and development. "I started to really have interest on how the body functions and how to develop it," he shares. Engaged in extensive gym work at Arsenal, Hein credits his academy's S&C coach for being a significant source of support and knowledge.
"Also, as a professional footballer in the top football club, we do a lot of gym work. I also have a good S&C coach in the academy who we've created a really good friendship with. He has helped me a lot and I always like to have a chat with him about fitness related information. Also, nutrition and sport psychology are the topics I'm really interested in."
This initial interest developed further and led to Karl exploring options to begin studies in the area. "Our Education Advisor at the club, Matt Henley, pointed me in the direction of Setanta and how the flexibility of the programme could fit around my career. As a lot of the delivery is online, I can crack on with it in my own time and tempo that suits me (that's the most important factor!). Luckily, I've met with Paudie (Roche) and Des (Ryan) during my time at Arsenal who are obviously connected to Setanta."
Balancing Career and Studies
With the obviously unpredictable world and schedule of professional football, this flexibility has allowed Karl to continue his studies without impacting his career. "I've enjoyed it so far. I've managed to complete all lectures and assignments on time because of the online element, meaning everything is easy to access and I can do it during free time while travelling. Every time we are in the hotel with the team, I have my computer and notebook with me to go through lectures. 
Benefits to Career
Learning the science behind the training he has been doing day in and day out it something Karl feels has been a benefit from his studies. "All the things I've studied so far in a year are all related to my profession. Sport that is very demanding on the body physiologically and psychologically. I know the concepts of training and competition periodisation, speed, power, strength development etc." It's also something he feels will be of benefit long into the future. "I think my future will be as a football coach but everything I am learning I will use to support this, with experience in strength and conditioning, sports psychology and nutrition. I have thought about potentially becoming a goalkeeping specific coach one day and with the knowledge around power, speed, movement efficiency, etc. help to progress this area further.
I would definitely recommend studying with Setanta. It gives people that are working a great opportunity to develop and further their education. It is very manageable because of the structure, especially for footballers who can use some free time to continue their education."