The UKSCA Annual Conference
Director of Coaching and Athletic Development at Setanta College, Des Ryan, was invited as a keynote speaker to this year's UKSCA Annual Conference. Below, Des provides an overview of his presentation – Bringing It All Together in S&C Management. 
The UKSCA annual conference is always a great opportunity to learn, connect with new people, reconnect with old friends and I was privileged to be invited to speak at this year's conference. Highlights of the weekend for me included Nic Gill (S&C for the All Blacks), James Baker (Talent ID UAE), Kirsty Elliott Sale (Manchester Metropolitan University), Bill Knowles (Knowles Athletic), John Fletcher (Scottish Rugby) and Richard Balgrove (Loughborough) and all the panel sessions. I personally learned a huge amount at the conference due to the quality of the presenters.
A Shared Vision
Once we take up a management position, we are often told to bring it all together. With that in mind, I wanted to share some suggestions to people wanting to become a manager or people who are in management position that may help their practice. One of they key roles of a manager is to bring people together through a shared vision. At the conference, I was lucky to have the help of the following people through video clips sharing advice from their own experience – Shayne Murphy – Owner SDM Performance, Ian Jeffreys – President Elect of the NSCA (Owner All Core Performance), Perry Stewart – Head of Academy Performance (Arsenal Academy), Soham Desai – Head of S&C India Cricket, Aidan O'Connell – Head of High Performance (Cork GAA), Feargal O'Callaghan – High Performance Sports Lead (University of Galway), James Baker – Head of Talent ID & Athlete Development  (UAE) & LTAD Network, Paul White – Head of Academy Performance (Stoke City), Ivan Mukandi – Head of S&C (Ipswich Town FC), Jo Clubb – Sports Science Consultant, Paudie Roche – Physical Performance Lead (Arsenal Women), Liam Hennessy – President of Setanta College.
Advice on Bringing It All Together
The suggestions for people who want to be S&C managers were as follows:
Understand the Coaches Philosophy –

If the manager is to be successful in the sporting environment it is important they understand and help bring to life the coaches philosophy. I gave examples of the IRFU technical model from the 00's and 10's where the then IRFU technical director educated the S&C coaches on the model and this helped us bring it to life from a physical perspective. 

Create a Performance Plan / Strategic Plan  –

This is important so that everyone understands what they are trying to do and how they are going to achieve it. I gave examples like the Arsenal Academy performance plan and the Bishopstown GAA Player and Coach Pathway that has a clear Vision, Mission, Objectives, Strategies, Tactics, Philosophy, Principles of Play, Pillars and Values.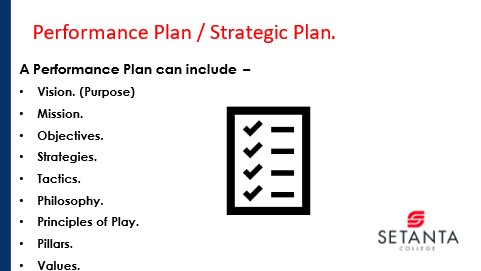 3. Have Values and Live Them – I highlighted the important of having values and living them to guide behaviours in the organisation. The practical example I gave was the Setanta Athletic Development coaches CPD day. Setanta's values are Togetherness, Commitment to Excellence and Continuous Improvement. Led by Ian Jones, we showed how these values were lived by training and having breakfast together before the event. Then learning new content in a practical way and through discussions and then ensuring our approach is aligned when we support sporting organisations. 
4. Quality Control – I discussed the importance for a manager to have a quality control system in place. The approach I suggested was based on this article. Which goes through a graded recommendation process for new innovations.  https://bjsm.bmj.com/content/53/1/50
5. Performance Development Review – This is where the manager creates a development plan for the practitioner. I stressed how important this is for the practitioner and the organisation. There must also be a clear development plan for the practitioner at the end of the PDR with clear objectives for the practitioner. 
6. Develop Practitioners – As managers we need to help practitioners develop. I showed examples of top level S&C coaches like Barry Solan, Dan Baker, Nic Gill and Jason Cowman. It takes time to get to these levels and as managers we need to help people be the best version of themselves. I listed different stages of development they are –
Induction – explain the rules of the environment and the working process.

Connection – start to get to know the players. 

Clarity – make sure you a consistently showing you are there to help the player get better. 

Relationship – try to be a friendly professional to the player and get to know them as a person. 

Celebrate Success / Support in Challenging times. – This is an important place of trust that may be reached over a long period of time. 

Trusted Professional. – This is the final stage where you are trusted throughout the organisation as a person and for your knowledge and experience.
7. Cultivate a good player coach relationship – This is important to get the best out of the player and the manager should check in on this and help the practitioner achieve this relationship. At academy level it may be in the form of a supportive uncle/auntie. At adult level it may be a friendly trusted professional.  
8. Be in the room – As a manager, it's important you are in the room when decisions are made to help guide future plans and so you can have your input. It can also be an opportunity to educate and learn and celebrate the work of your department. This could be in a board meeting or a coaches meeting, etc.  
9. Be good at managing up – Below is the summary slide of advice that may help you manage up.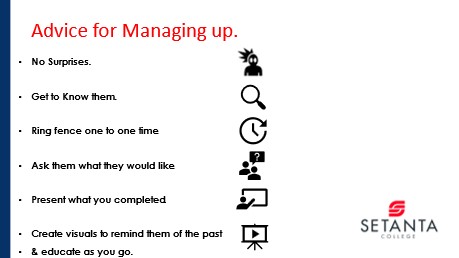 Moving Forward
The closing advice was from Dr Liam Hennessy. He shared the saying "onwards with energy and care". This was to remind managers that we must reflect before making decisions and before any changes, we must consider how it affects everyone. This may slow things down but it will be better in the long run. This must be completed with good energy to keep everyone positive about the future.