As the dust settles on an epic 2018 All-Ireland Hurling Championship season we were delighted to chat with Clare Hurler, John Conlon. In a candid interview, John talks about seeing Limerick raise the Liam McCarthy, hurling as a game of inches, making a difference in his career as a teacher, injury, and his own development from the very early days of his childhood in Clonlara. 
"Foghlann tú rudaí nua gach lá."
'You learn something new every day' is a saying that has stuck with John Conlon since his Clonlara National School days under the guidance of school teacher, Eddie Horgan. Learning on and off the field, over a 10-year intercounty career, culminated in a stellar year for the roving full-forward who terrorised defences in the Munster and All-Ireland Championship. Clare came within the width of the post of joining Limerick in the All-Ireland final and Conlon played a vital role all the way to the semi-finals, even though he was carrying an injury.
Afer the disappointment of that semi-final result subsided John was able to appreciate Limerick's victory. Having a Celtic Cross of his own, from Clare's success in 2013, meant that he was able to appreciate even more the sheer joy that the win brought to players he would have held in very high esteem. These include stalwarts such as Séamus Hickey who, like Conlon, was a former pupil of St. Flannan's College in Ennis and a player he admires hugely as a friend and role model.
It was interesting to see how often the names of such role models were mentioned – the influence of great Clare men like Jamsie O'Connor, school teachers like PJ Fitzpatrick and even the old lad in the village who made sure the Formula 1 racing on toy tractors didn't end up in the ditches! It's an insight into a career and childhood that was shaped by real-life experience. Conlon's development is a case study of what can be achieved when the exuberance of youth is allowed to kick, puck, climb, race and occasionally go missing. Combine that with the influences of great teachers, coaches, managers and now additional expertise in the shape of sports psychologists and nutritionists like Clare GAA's Grainne Travers. Indeed it is Travers who oversaw one of the biggest turnarounds in his on-field performances and is responsible for his teammates landing onto matches with bags of home baking…
Click Below To Play The Interview In Full
In his career as a primary school teacher, it is encouraging to hear the role Conlon would like to play in developing the kids in his care. In a way, that is why he is now studying Strength and Conditioning so, as a teacher, he can help in the classroom in terms of children's fitness, movement and natural development in what are challenging times.
Here at Setanta College, we look forward to seeing John Conlon continue his hugely successful career with club and county over the coming years. Through his studies with us in Thurles we can see the makings of an excellent coach and more importantly a role model for future generations of school kids and players of all ages. We can all learn something from his modern approach to life, on and off the field, while bearing in mind that sometimes the old ways of learning through play and divilment have a place too.
"Is cum leis an óige cá leagann sí a cos."
Maith thú John!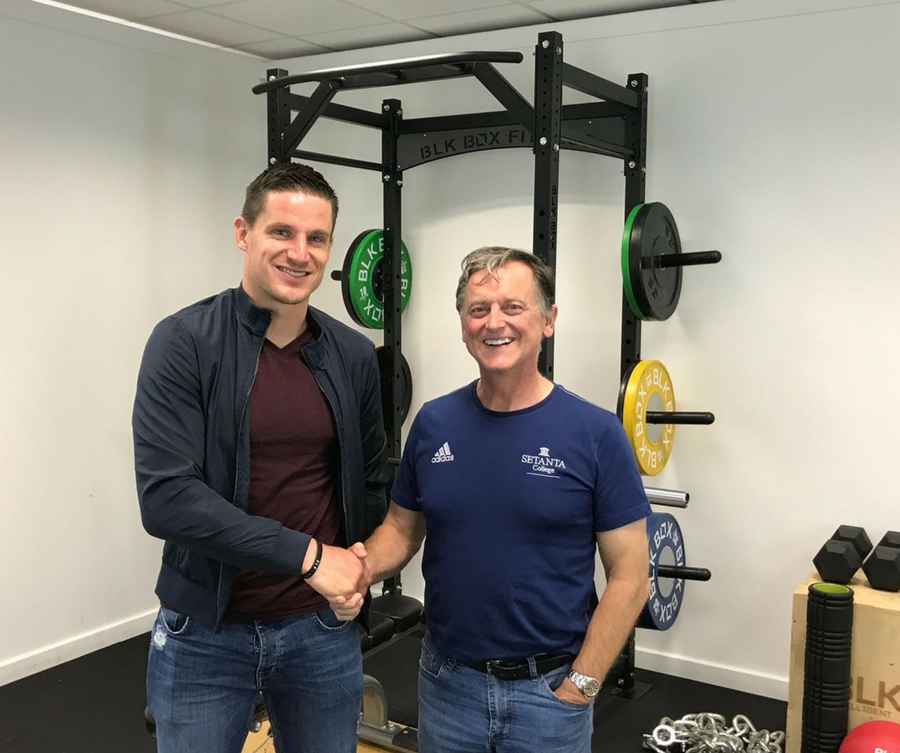 Setanta College student John Conlon and Dr. Liam Hennessy: August 2018