In preparation for our next performance workshop in conjunction with our proud partners, the WGPA (Women's Gaelic Players Association), we have decided to take a look at some of the testing data gathered at the inaugural WGPA performance workshop held in the SportsLab in Thurles in April 2018. Twenty-nine WGPA members from all over the country from both codes participated in several functional and capacity fitness tests on the day. The data gathered allowed us to assess the athletic ability of camogie and ladies football players competing at the highest levels of our native games.
Inclusive on the day were practical demonstrations and lectures in improving speed, agility and acceleration, injury prevention and workload monitoring delivered by Setanta College tutors Ben Mahony, Ciaran Keogh and Theresa Molohan. Special guest lecture, Martin Kennedy, National Talent Athletic Development Coach with the Irish Rugby Football Union (IRFU) gave a fascinating guide on how to set goals and formulate leadership within a performance environment and Ed Slattery, Athletic Performance Coach Women's Rugby with the IRFU, gave the attendees an insight into high-performance sport and the programme he delivers within the IRFU national system.
The second workshop on "Translating Practice into Performance" was held in November of last year by Setanta College tutors Adam McCarthy and Maggie O'Grady with special guest, Dr. Ed Coughlan, Sport Skill Acquisition Specialist and lecturer in Cork Institute of Technology (CIT). The aim of the day was to provide the attendees with tools to self-assess while applying more structured and scientific principles to their training. Topics that were touched on throughout the day were assessing the demands of camogie and football, screening to assessing mobility and common injuries, injury risk reduction methods, hitting the preparation pillars, power training session for an in-season athlete and managing workload: a practical self-assessment guide for athletes.
Gaelic Games require many important physical attributes in order to achieve success within the game. Important game activities such as winning possession of the ball, evading opponents, and fielding high balls involve single or repeated bouts of activity involving high running velocities and muscular power.
Muscular power of the lower limb is typically assessed using a countermovement jump (CMJ) without arm swing. The CMJ isolates the lower limbs to assess an accurate measure of height jumped in centimetres without the aid of the arms. Use of the arms may increase jump height by more than 10%. A higher jump height may result in winning a high ball over an opponent.
Acceleration can be assessed using a 10m run. Acceleration is the first phase of a sprint and is typically administered to assess the first few steps of sprint. This will have implications during match play and the first few steps in a sprint towards a loose ball may prove decisive in winning a possession over an opponent.
Results
A total of 29 participants were tested. During the CMJ, knee valgus was assessed during the landing phase of the jump. Knee valgus is the term used to describe the knees collapsing inwards. Mean scores for the CMJ and 10m acceleration was 29.13cm and 1.92 seconds respectively. Scores ranged from 20.8cm to 38.4cm in the CMJ and 2.05 to 1.78 seconds in the 10m acceleration run. There are no available reference values for the CMJ and 10m acceleration for Ladies Gaelic Games. Average values for female collegiate soccer players for the CMJ and 10m acceleration are 41.8cm and 1.92 seconds. 10 participants displayed knee valgus upon landing which accounts for 34.5% of the total participants.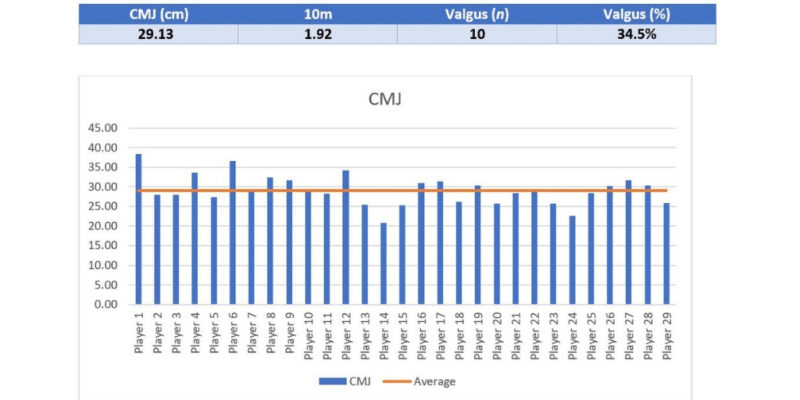 For this group of players, there was a moderate strength inverse correlation between performance in the CMJ and 10m acceleration (r= -0.38). This means, as a group, only 14.8% of the performance in the CMJ is associated with the performance in the 10m. These findings are in line with those of female soccer players where there was a small to moderate relationship found between CMJ and 10m acceleration (r= -0.22) (McFarland et al. 2016). It is likely that the CMJ is more related to longer distances (30m +). Despite this moderate relationship, both lower limb power and acceleration are important components of fitness in ladies Gaelic Games.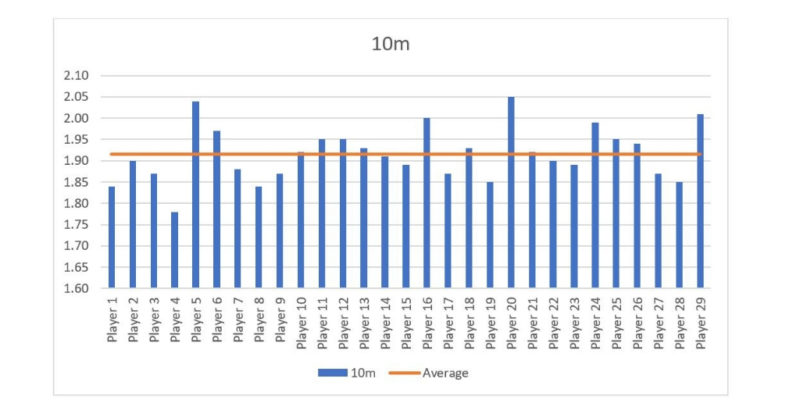 Valgus Results and Implications
The prevalence of knee valgus in ladies Gaelic Games has not previously been investigated, thus, there is no normative data for us to compare our findings. Research (Renstrom et al. 2014) has shown that female athletes have a much higher incidence of ACL injuries in multidirectional and explosive sports such as basketball and team handball, when compared to their male counterparts. There are several risk factors associated with suffering an ACL injury. One such risk factor is an increased valgus of the knee during impact on landing. This may have implications for ladies Gaelic Games, as the sport will require players to compete in the air for high balls, leaving them susceptible to potential injury upon landing. 34.5% of the participants tested displayed a knee valgus upon landing during the CMJ. This is a high percentage when considering the size of a typical intercounty panel may be approximately 30 players and the sample size tested was 29. Players who displayed valgus upon landing should seek further assessment from a physiotherapist. Exercise programs should seek to increase stability of the knee, activation of the glutes, and mobility of the ankle. In addition, plyometric training should be included with an initial emphasis on improving landing mechanics with the focus on maintaining the hip-knee-toe line throughout each jump.
Below are a number of exercises that can be used to reduce the likelihood of knee valgus: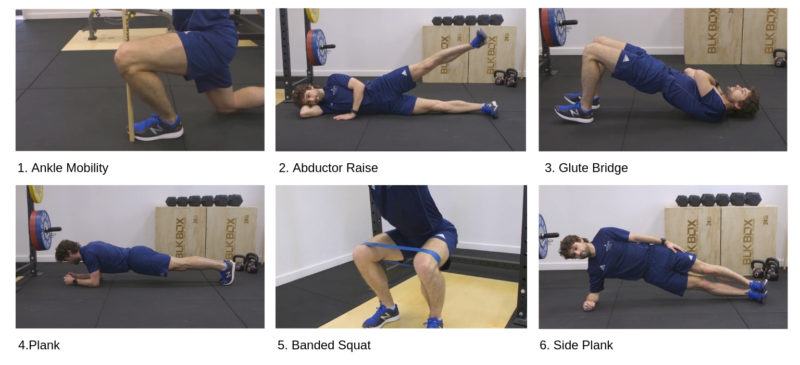 The lack of research in female Gaelic games is alarming and needs to change if as practitioners in the field of strength and conditioning/sports science we are aiming to best equip the athletes with the physical tools possible to excel in their sport. Firstly, having normative data to better understand the demands of the games and the physical capabilities of the athletes who compete within the games is of utmost importance. Considering the mandate of the 20×20 movement that aims to shift Ireland's cultural perception of women's sport by 2020 here at Setanta College in partnership with the WGPA will continue to educate and upskill female Gaelic games athletes. Current and past intercounty stars have a huge role to play in encouraging the next generation of Irish female athletes and in increase media coverage, participation and attendance of games and events.
The next WGPA Player Workshop, hosted by Setanta College takes place on 27th April in the SportsLab, Thurles. Special guests on the day include Irish Women's Hockey, S&C coach, Darren Kenna and renowned Sports Psychologist, Anne Marie Kennedy, along with a Setanta College Combine for the players. Plus, there's a free sports mobility kit for every attendee, sponsored by Sports Physio & Performance. For more information, go to: www.wgpa.ie.