This week's #SetantaStudentSpotlight is Richael Timothy. Richael is an Irish Elite Para-Cyclist and a student on our Master of Science in Performance Coaching. Richael Timothy gave us an insight into her life, her career as an athlete, and why she chose to study with Setanta College.
Would you like to give us a bit of background about yourself and how and why you got into Para-cycling?
My name is Richael Timothy, I am an Irish Elite Para-Cyclist from the Galway / Roscommon border!
In the space of a year, I have broken 4 National records and achieved many top 10 finishes in international events. I am currently working towards competing at the Tokyo 2020 Paralympic Games and I am ranked 8th in the road world rankings and 4th on the track. On Saturday the 1st of February this year I won a World Championship Bronze medal in the Scratch Race on the track. This is my greatest achievement to date and sets me up perfectly for the Tokyo Games.
What were your first thoughts on the changes from previously playing in a team-based field sport environment to now competing individually?
Before my life-altering injury, I was an elite sportsperson playing soccer for Ireland and with the Roscommon Senior Ladies Football Team. I was also on a full sports scholarship in AIT where I studied Sports Science and Exercise Physiology.
I'll be honest, I loved football because it was a team sport. My best friends are all people I meet through playing sport and I loved the idea of heading into training to meet up with the girls and train as a group. Then cycling came and it is a very individual sport. You train 20 hours per week mainly on your own. At first, it was difficult to adjust to, but I love my own company now! Also, with being part of the para-cycling squad, we travel to training camps at home and abroad as a team and train together based on ability when on camp so I still see myself as part of a team sport.
I chose para-cycling as at the time it was something I was actually able to do. I got on an old bike I had and was actually able to move the pedals… slowly! I couldn't run and still can't and swimming with a brain injury doesn't really go together. I always cycled as a kid and I enjoyed the idea of going out for a spin at speed and actually getting somewhere!
I qualify for Para-Cycling due to an acquired brain injury that I sustained in 2016. As a result of swelling in my brain, I lost the power in the right side of my body. Losing this power meant that I had to learn to walk again. Through 18 months of rehabilitation, determination, and an end goal in sight I successfully managed to get on my bike again.
For me, the bike offers a long-term goal as I continue to reap the benefits and experience deep mental clarity and connections with others in a similar headspace to me, it allows me to remember that I am not alone in my disability as I find ways to adjust to a lifestyle I never anticipated.
Is there a coach or athlete that you look up to as a role model and why?
My role models have changed between sports over the years! As a kid, my role models were Gillian Joyce of Galway Ladies Football and Valerie Mulcahy of Cork. I always wanted to play in Croke Park and score an outside-of-the-boot point! Within Cycling then Katie and Eve are obviously who I look up to. Their work rate is incredible and they have and continue to show me what it takes to be world champions.
I started my cycling journey with Fran Meehan as my coach and I am still in contact with her today, she was a Paralympian in the London and Rio Games as a sighted pilot for Catherine Walsh. They competed in Cycling in London and Triathlon in Rio.
Besides that, my mother and my partner are my biggest role models. They have always shown me no matter what happens you can always make the most of a bad situation.
How has Covid-19 affected your cycling career in terms of training and competitions? What changes have you had to make since this time last year?
To be honest, the lockdown has suited me and has massively helped my training. As a cyclist, I was able to train at home indoors. At the start of the lockdown, I just got my gym set up and put my bike on the turbo and never looked back! Following on from the summer then, we were given an exemption to train on our own and use the Sport Ireland Institute to use the gym which was essential with all gyms closed locally. It also gave me an opportunity to work on my base aerobic with no time off for racing/traveling etc. This was brilliant as it was just Head Down – Train Hard! As the Games were postponed for a year it gave me 12 more months to train hard and get faster. Unfortunately, competitions have been canceled and I haven't got the opportunity to race as much as I would have liked. However, I can't wait to see my progress when I do get back on the start line.
However, success in general for this year will be an end to the Covid-19 pandemic and hopefully rolling out a vaccine.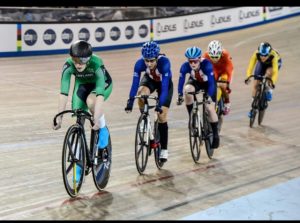 Are there any short-term goals you'd like to accomplish in the next year or two? What is your ultimate achievement/motivation for track cycling?
Obviously, the Tokyo Paralympic Games is my goal, and not just to go and take part I want to go and compete and do my family, village, and country proud. Prior to that, we have a road world cup and the road world championships with the goal here to go and compete at my very best in peak condition. These competitions also give the team an opportunity to gain more qualification points.
My biggest sporting achievement would definitely have to be winning bronze in the scratch race at last year's track world championship. I went in as an underdog that no one was really paying attention to and on the day, I just left it all on the track! This was also massive in that the points gained secured a qualification slot for the Tokyo Paralympic Games this Summer.
I love track cycling, the rush of going fast on an indoor wooden track is amazing. I believe track events are something I can do very well in in the future and hopefully earn some more medals!
What does a typical day look like for you in the lead-up to a race? On the day of the race do you have any rituals?
In the lead-up to a race, I usually do some mobility work and then head out for an easy hour spin to flush out the legs. The rest of the day consists of sleeping and carb-loading for the race ahead!
My usual training week consists of about 20 hours. Usual 3 hours in the gym working on strength and balance and the remainder on the bike consisting of long low-intensity spins, club spins, and short high-intensity efforts. Now that some racing is back, I try to part take in some local time trials and club leagues to keep my racing legs!
Do you have any pre-race rituals?
Not necessarily! I have my warm-up structure and my playlist sorted. I get on my turbo at the specific time prior to race start and I get in my own zone. If I have prepared correctly, my leg (s) will do the talking!
Do you have any hobbies or interests outside of cycling?
Sleeping and Eating! Cycling is a tough sport you're on your bike for 20+ hours and week and then you have gym and heat acclimatization training for Tokyo so in my downtime I work on my recovery which is basically eating as much as I can to fuel my next session and sleeping. From having a brain injury sleep is essential and a daily nap is a massive part of my recovery. I also love a good 12-hour sleep! Besides this, I am currently studying the Setanta College Masters of Science in Coaching Performance. This is part-time so on my off-bike days, I tend to spend a few hours studying. After my career in cycling, I hope to work in High-Performance sports so doing this master's online through Setanta College will hopefully help me with this.
You've recently joined Setanta College as a student, what motivated you to start studying S&C and why did you choose Setanta?
I have previously studied Sports Science and Exercise Physiology. At the start of lockdown last year, I decided to enroll on the Setanta College Diploma in Personal Training and Strength & Conditioning. Although I already have a qualification in S&C, I wanted to educate myself more and the Diploma in PT and S&C was perfect. The online learning worked perfectly for me as a full-time athlete. My experience of Setanta College was so good that I started my Masters of Science in Performance Coaching with the college back in October and I have loved every minute. It has been difficult at times to balance a master's with a full-time training schedule but I think it has actually helped my training as it has brought more structure to my everyday life. As an athlete, I know the importance of life after sport and I see myself working in high performance in the future and therefore education is extremely important.
How do you feel the course has/will help you understand your own training?
The course has and will massively help me with my own training. You learn new techniques and different ideas from various people all of which are backed by research. As an athlete, I love trying new things and seeing what may give me that extra edge on race day.
What advice would you give to younger athletes?
Never give up hard work will always win in the end no matter how talented you are! Surround yourself with positive people and never let anyone tell you that you can't. You can be anything you want to be! Dream Big!
Master of Science in Performance Coaching
Richael is a student on the Setanta College Master of Science in Performance Coaching. You can find out more about the course here or by downloading the brochure below.
Download Masters Brochure