David Grey is a Biomechanics Specialist and Owner of David Grey Rehab.  He helps athletes and everyday people with injury, pain, rehabilitation, and performance. Currently a student on or Diploma in Personal Training and S&C, David has delivered workshops and seminars internationally, and regularly consults with and mentors some of the best coaches & therapists to help them get even better results with their own clients.
Can you give us an insight into your background and your business, David Grey Rehab?
I grew up in Waterford and I was obsessed with sport and in particular Gaelic football & Hurling. Due to a lot of injuries, my athletic career didn't really pan out how I would have liked so the next best thing was to try to help others with their own hobbies and sports. 
I travelled the world and got a chance to learn from some of the best coaches in fields like; Stretching & Mobility, Gymnastics, S&C, Manual Therapy, Biomechanics, Track & Field, Martial Arts, etc. 
I am a qualified Sports Therapist and Neuro Muscular Therapist. I have delivered workshops internationally and regularly consult with Olympic and professional athletes performing at the very top level. Our business (David Grey Rehab) has a series of programs that have been used by over 7,000 people in 50+ countries and have also been used by coaches and athletes working in the NFL, NBA, AFL, GAA, English Premier League, and more.
What was your motivation in choosing this path as your career?
My own experience with countless injuries was a big driver for me. I probably spent more time on the physio table than on the actual field and I started to develop a real interest in how the body works. I was often left dissatisfied with the advice and standard of care that I received and so I wanted to try and find some of the answers myself.
I travelled the world and met some incredible coaches and therapists along the way. This helped me to get out of pain and heal a lot of injuries and I wanted to pass that knowledge onto others who might be struggling. 
Over the last year, what has been the biggest change you have had to make with your coaching practice? 
Obviously, Covid has had a huge impact on the whole health and fitness industry. 
A lot of people have moved to online coaching and we were lucky enough to be already working online with a lot of clients around the world. Covid just accelerated that for us and forced us to be a little bit smarter about how we market and deliver our services online, without compromising on quality and results. Having a good exercise library with very clear cues and detailed (but simple) explanations has been very important for us and is something I would recommend to every coach working in the online space.
Over the last number of years, there has been greater popularity and awareness of movement & mobility training within the health & fitness industry. Can you tell us about your approach when working with clients? 
I think good quality movement should always come first. Mobility is a big buzzword these days but good quality movement is so much more than just having access to a range of motion. The best movers display incredible strength, control, timing, and coordination as they move through the range and these are the qualities that I am always trying to develop with my clients. 
What would you say is an important and often forgotten aspect of coaching clients online? 
Communication. A lot of coaches rely on actually demonstrating exercises to their clients and online work can make that very difficult. The ability to coach someone through an exercise using very clear and concise words is so important. But like any other skill, it can be improved with practice! 
What has been the most important lesson you have learned as a coach?
Principles over methods. Lots of people get great results using a variety of methods. So everything works and it's just about finding what is right for the client in front of you. No one method or person has all the answers and it's the principles that underpin everything that we should be seeking to better understand. 
You've

recently joined Setanta College as a student, why did you decide to begin studying S&C and why did you choose Setanta?
I love learning. I want to make sure I am giving the best service possible to my clients and there are some gaps in my knowledge that I think Setanta can help me to fill. The ability to study online with Setanta College is huge for me. I also know lots of great coaches that have studied with Setanta and I have huge respect for a lot of the tutors also!
How have you found the balance of studying and working? 
The online portal makes it very easy and accessible. We are very busy with work at the moment so it's just about time management for me and making sure I'm disciplined and consistent with my schedule.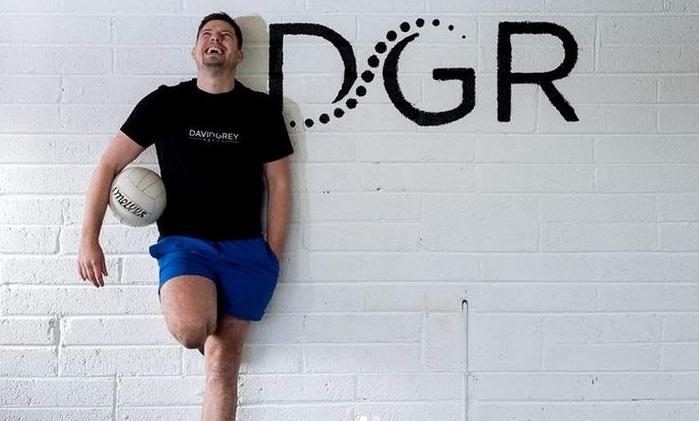 What are your plans for the future once you have completed your studies, and with David Grey Rehab? 
At the moment we are renovating our clinic & rehab facility so that is pretty exciting. Once Covid is over we will have some pretty big names coming to visit us for short blocks of training. I have also been invited to teach some workshops around the world so that will be a nice excuse to take a sun holiday when travel returns. 
What advice would you give to coaches looking to begin their careers in the industry? 
I have two pieces of advice for coaches looking to begin their career in the industry: 
Learn, learn, learn. Listen to your tutors and lecturers and other coaches that have been there & done it. You don't have to agree with everything that is being said but you should have an open mind and a willingness to learn. The coaches that I have learned from and consider the best in the world are usually the ones asking the most questions and are always looking to learn more.

Practice what you have learned. Don't be afraid to make mistakes. Put yourself out there and don't wait for the perfect moment because that day will never come. Start today.
Diploma in Personal Training and Strength & Conditioning
David is a student on the Setanta College Diploma in Personal Training and Strength & Conditioning. You can find out more about the course here or by downloading the brochure below.