Our #SetantaStudentSpotlight series continues Bryan Mollen, an Irish 7s Rugby Player. Bryan is studying our Diploma in Personal Training and S&C. We had the chance to catch up with him and find out more about his life, his rugby career and why he chose Setanta College.
Can you give us an insight into your own background and your career as an Ireland Rugby Sevens Player? 
I am fortunate to have had a very unique background. I have dual nationality, as my father is Dutch and my mother is Irish and, since my father works for the Dutch Ministry of Foreign Affairs, I grew up in many different countries. I was born in Nairobi, Kenya, after which we moved to The Netherlands, then to France, Australia, Belgium, and Germany. When I was 15, my parents and I decided that the best next step for me would be to move to boarding school. As my mother is from Blackrock, I decided to board at Blackrock College.
My rugby career began in Australia when I was seven or eight years old, and I continued playing as much as I could as I moved from country to country.
Towards the end of 2016, when I was playing for Dublin University Rugby Club, I got invited to partake in Ireland 7's training sessions. I was lucky enough to be given the opportunity to continue training, and I played my first tournament in the summer of 2017 in Amsterdam. Following that, I was among the first to receive a professional IRFU 7s contract in 2017.
Since then I have helped qualify the team for the world series, win rugby Europe, compete in the world series, play in a world cup, and win a bronze medal at London 7s in 2018.
Has Rugby always been your number one sport growing up or did you play and compete in others?
When I was younger I played all kinds of sports, as the ones offered were very different at the various schools I attended. Over the years, I played rugby, football, cricket, tennis, and golf, and competed in swimming and athletics. I was also fortunate enough to ski and snowboard with my family every winter. However, once I started playing rugby at Blackrock College, it took up more and more time throughout the year and made it difficult to keep up with all the other sports. The opportunity to make the top team in school and the love I had for the game, gave me the drive to keep playing and focus solely on rugby.  Despite this, I did manage to continue playing cricket until I started with the Rugby 7s, as the 7s season runs almost all year.
What does a typical day of training look like for you in the lead-up to an important game?
Covid 19 has affected the Irish 7s opportunity to compete on the world stage. Most of our competitions are international tournaments, and due to the ban on travel, we haven't been able to compete internationally.
However, we have still been training week in week out either at home or in the high-performance centre. A typical day for me would involve getting up at around 7 am, having breakfast, and then heading out to the high-performance centre for training. On arrival, I fill out a monitoring questionnaire and complete a daily input check. Then, I do some individual preparation ahead of our pitch session, which lasts for about an hour. After a short time for recovery, I follow the pitch session with strength training in the gym. Post-gym, I would have a meal and receive treatment from the physio, if necessary. I'm usually home by mid-afternoon and then either relax and recover or do some study. I usually have another main meal in the evening and then head to bed around half 10.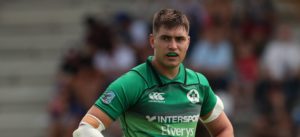 What has been the highlight of your rugby career so far?
So far, there have been two main highlights for me, including, firstly, winning a bronze medal in the London 7s in Twickenham. The Irish 7s were playing as an invitational team in our first World Series event and we beat England on their home turf! The other highlight of my career so far was playing with the 7s in 2019 in Hong Kong, where we won the qualifying tournament to put Ireland on the World Series as a core team.
What are the short-term goals you'd like to accomplish in the next 2/3 years? What is your ultimate achievement/motivation in rugby?
I have a few goals for myself on and off the pitch. On the pitch in the short term, my major goal is to get back to being fully fit after suffering a hamstring injury. I have had a few injuries recently, and I would like to put them behind me and achieve a long period of remaining fully fit and being able to consistently compete. I also want to continue to be an integral part of the 7s team and hopefully play for a few years to come.
Off the pitch, I am looking to further my knowledge and education in the field of data analytics, and find experience and employment within that area. Combining the data world with the world of sport is one of my longer-term career goals (after I finish playing rugby professionally/ in the future) that I am beginning to build towards.
What's the best piece of coaching advice you've received? 
Focus on your strengths not just your weaknesses.
Do you have any hobbies or interests outside of rugby? What do you like to do on your days off?
I love switching off completely from rugby on my days off. I live by the sea and I enjoy going for a swim, both to relax and recover. I also enjoy playing golf regularly, heading out for walks with my two dogs, or meeting up with friends and family for a coffee, a bite to eat, or a few drinks. In the evenings, I like to let myself relax in front of the TV with a good Netflix show, or play some PlayStation online with my friends.
You've recently joined Setanta College as a student on our Diploma in Personal Training and Strength & Conditioning, what motivated you to start studying S&C and why did you choose Setanta? 
I finished my undergraduate degree in the summer of last year, but I really wanted to continue studying towards a career after rugby. I chose to study the Diploma in Personal Training and Strength & Conditioning course as I was interested in learning about the science behind my own training, and I am hopeful that I will be able to combine this course with further studies in the sports science area in the future. Moreover, Setanta College is a very well recognized college and it has given me the opportunity to do the Diploma course on a part-time blended learning basis. This allowed me to fit studying in with my training schedule and hence, made the course extremely appealing.
How do you feel the course has/will help you understand your own training? 
The course has helped me gain more of an understanding of, and knowledge about, what I do on a day-to-day basis as well as over a whole season in rugby. I have learned about the science behind why I need to engage in some things and not others in order to benefit my training the most. As a result, I now tend to focus on specific aspects of my training, which I would never even have thought of doing without before I started this course.
How have you found the balance between studying and training? 
I enjoy having a balance between studying and training. I did my undergraduate degree in UCD whilst training and competing, so I am used to juggling the two. Also, I actually really enjoy having my days organized to do something while I am away from the rugby pitch and to be able to switch my focus elsewhere, and I am always interested in learning more about sport.
When I am away at tournaments, I have often been fortunate enough to be able to defer some exams and tests, which allowed me to play rugby without sacrificing any areas of my study.
What advice would you give to young players? 
Most of all, I would say to just go and enjoy it. I love what I get to do and even if it doesn't always go my way, that's the fun of sport and competing. Be positive, work hard, play with a smile, and never turn down an opportunity.
Diploma in Personal Training and Strength & Conditioning
Bryan is a student on the Setanta College Diploma in Personal Training and Strength & Conditioning. You can find out more about the course here or by downloading the brochure below.