The Setanta College Student Internship
Earlier this year, we were able to provide two Setanta College students with the exciting opportunity to travel to South Africa for an internship at the Stellenbosch Academy of Sport. One of the students that jumped at this opportunity was Shane Rodgers, who is currently studying on our BSc in Strength & Conditioning. We had a quick catch up with Shane to learn more about his time in South Africa, and what his work has been like since February of this year.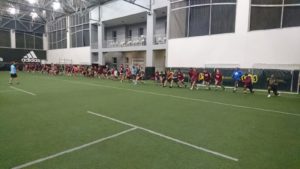 Would you like to give us an insight into your experience so far with your internship in South Africa?
I'm completing my internship at Stellenbosch Academy of Sport, South Africa. I'm an Intern S&C coach for the SAS 7's Rugby Academy, Head S&C Coach for Paul Roos Boys' U14 team, and an Intern S&C Coach for the South African U20 team. I took up this position in late February and will be continuing in these roles until July. 
The role as an intern in SAS is quite intense with a variety of responsibilities. We start the day off with covid screening for the players and then an MSK (Musculoskeletal Test) to assess the players for potential injuries. The tests that we currently use are the knee-to-wall test and groin squeeze test. Weight is also monitored regularly. We then help the physios with strapping and work together to plan modified workloads for any players carrying an injury. The players will then start with a pitch session. On a testing week, we will set up cardiovascular tests such as a Bronco Test or a Modified Bleep Test. On a normal week, we will plan for some conditioning speed drills depending on the aim of the block. 
On the gym side, we help to plan sessions as well as tailored workouts for players returning from injury. After the gym session, we then take the players through a recovery session in the pool.  We also plan for Mongrel sessions in the afternoon. Mongrel sessions are high-intensity cardio-based workouts for players returning to play. It is so-called as a Mongrel will do anything to survive. The idea of these sessions is to keep injured players' fitness levels as high as possible before they return to the field.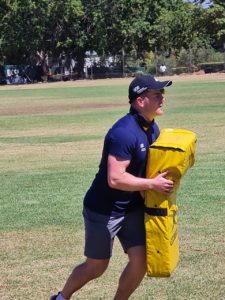 What has been your biggest learning so far during the internship?
My biggest learning so far has been that building relationships with your player is much more important than the knowledge you possess. This includes learning about them outside of rugby and sharing your background too. This way we can learn what drives a player and what buttons to push. Trust between a coach and a player goes both ways. We expect effort and high standards from a player and they expect the same in return. If you've put in the spadework and a player knows and trusts you then when you give them a piece of advice, they're much more likely to take it in and apply it.  
What has been the most important skill or knowledge you have brought from your Setanta College studies to the internship? 
The variety of modules and workshops has really equipped me with great knowledge and resources in planning and coaching. I feel developing my coaching skills and exploring my own philosophy in Setanta has been a huge benefit in how you teach and educate players on why they are performing certain exercises. It has also made me aware that how you approach one player may not work with how you approach another player. 
What area of S&C would you like to learn more about after this internship?
I would like to learn more about Long Term Athlete Development over a player's career. There is a very strong relationship between the local boy's secondary school, Paul Roos, and SAS which has developed a very effective rugby programme. Paul Roos has produced the most Springboks in South Africa, currently over 50 past pupils' having been capped. The process and planning that goes into each year is second to none and has definitely contributed to their ongoing success. 
What advice would you offer someone who is about to begin an internship?
Soak it all up and enjoy every minute of it. It is a tough and fast-paced environment but the weeks fly in so you need to appreciate every day.

 

Mold your own style as a coach over time. You can take pointers from other coaches you observe and add them to your philosophy, however you must find your own

way that suits your personality.

 

Be highly adaptable and open to carrying out tasks that you wouldn't consider S&C work. 
Shane is a student on the Setanta College Bachelor of Science in Strength & Conditioning. You can find out more about the course here or by downloading the brochure below.