In the week of the Irish Open Dr. Liam Hennessy, trainer to 3 Time Major Winner Padraig Harrington, talks about his journey with a special golfer and offers his thoughts about the supreme athleticism needed in the game of golf.
Over 20 years ago Tadhg Harrington approached Dr. Liam Hennessy while he was working in the Blackrock Clinic as the Chief Exercise Physiologist with the Irish Olympic Team.
Tadhg had a younger brother who was beginning to make a name for himself on the golf course but needed guidance on elements of his fitness regime. As Liam thinks back his initial assessment of a 26-year-old Padraig Harrington was straight to the point; "He was doing his own thing, which wasn't great, and he was out of shape."
Around the same time Liam was also working on setting up an Irish Rugby Academy alongside Stephen Aboud. Names that went onto becoming legends of the game were coming through the provincial school ranks such as Denis Hickie, Malcom O'Kelly, Ronan O'Gara, Donncha O'Callaghan, Peter Stringer, Gordon Darcy and Brian O'Driscoll. Having little or no experience in working with golfers Liam addressed Padraig as he would any of the academy players with a very simple philosophy – what were his issues and what did he need to do. All the while applying the principle of festine lente or 'Make haste slowly'.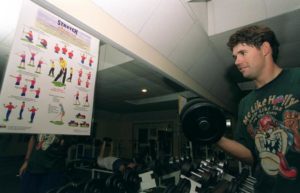 After an initial screen and assessment Liam prescribed a daily programme and was struck by the tenacity of Harrington from the very early days. Those early sessions really kick-started Harrington and led to a training partnership, and friendship, that lasts to this day.
"The one thing about Padraig, and it has never changed, is once something is rationalised and explained as to why we are doing a certain drill or exercise, it's a given. There is immediate and total buy-in."
The proof of this is Liam believes this daily routine prescribed more than 20 years ago, and one which is constantly evolving to Harrington's changing needs, has only been missed a handful of days.
The journey since has been eventful to say the least. Pairing a Sports Scientist with a determined, to the point of obsessed, golfer sent them around the world looking for that physical and competitive edge. Over the years Liam's name, previously associated with Olympic Athletes, the IRFU and field sports, became synonymous with the game of golf. He now sits on the Junior Board of the Titleist Performance Institute having met Greg Rose and Dave Philips through Padraig's network in the US and worked on one of the first 3D Analysis systems based out of Carlsbad in California looking at the timing and sequencing of the golf swing.
It is this scientific element that really excites Liam and you are struck by his passion for the athleticism of the golfer. Something that the TPI have been seminal in making golfers of all levels more aware of the physical nature of the game.
"At the elite end these are supreme athletes and this is something that is not really appreciated. What it takes to stand on the tee and torque your body to delivering over 180mph club head speed is something that is very special as an athletic characteristic. The effort this takes is phenomenal and very few people will see that happening. All they will see are body shapes and contrasts on the golf course which don't exist in other sports."
"For the elite, and recreational golfer, these terrific torque speeds and forces place great stresses on the knees, lower back and throughout the body. It for this reason that it is crucial that there is an individualised conditioning programme in place and not just for the elite golfer. You just can't get out of the car and pitch up to the first tee and expect the ball to blaze out at over 100mph without adequate warm-up preparation. The demands of the golf swing are huge and if you don't prepare or condition to meet those demands you can expect injury. Every golfer needs to have their own unique programme that really focuses in on their individual needs and areas of development to swing the club more efficiently."
It is this sentiment that forms the TPI mantra of:
WE DON'T believe there is one way to swing a club; we believe there are an infinite number of ways to swing a club. But we do believe that there is one efficient way for everyone to swing and it based on what they can do physically.
"In any sport where there is a technical sequence; from golf to javelin throwing to the kickers on the current Lions Tour, there is a model that is technically efficient. But the interesting thing is it depends on you as to how you express that model. This is the difference between a technique and a style. Your style is the way in which you express a technique. And it differs between all of us."
"A very good friend of mine, and world class physio Alan Kelly, has a great saying to finish this topic."
Methods of many. Principles of few. Methods will change. But principles rarely do.
Like a good politician Liam has a knack of not answering direct questions; in his case about upcoming games or events for any athlete or team that he works with directly. After a difficult few months of recovery from surgery and then a freak accident, Harrington showed some good form in the Travelers Championship. Not to be drawn on this week in Portstewart, and maybe a sign that this is indeed a man talking about a friend rather than a client, Liam had this to say about the upcoming Irish Open.
"My main role with Padraig is to ensure his longevity in the game. I see him playing great golf for the next 10 years and continuing his journey. The most important part of that journey is being ready. Being ready to be able to play. The Irish Open is another step to him becoming more competitive. His neural system is firing as fast as ever. His club head speed is as fast as ever."
"I just hope he continues to do what he needs to do. Just swing."
"Just swing."
Dr. Liam Hennessy will be joined by world renowned S&C coach and golf specialist Jason Glass for a special one-day workshop on developing rotational power in players and athletes. The event will be held in the SportsLab, Thurles on the 30th July.
For more info visit: www.setantacollege.com/jason-glass-golf-workshop